Summer Pink
Our Summer Pink candle changes from cream to a deep rosy pink while it fills the room with the soft fragrance of peony, patchouli, and vanilla.
Our clean-burning premium candles have been carefully handcrafted. Our lead-free wicks, custom-blended wax, magical color transformation, and premium fragrance oils, all create a truly unique experience.
This limited-edition candle features a mesmerizing geometric floral design.
Color changes from Cream to Magenta
Fragrance notes: peony + patchouli + vanilla
Glass jar
8-oz. candle
Two wicks
Diameter: 3.1875
Height: 3.375
Burn time 30+ hours
Made in USA
Made with Colorsine™
Colors may vary
Buy two and save!
BUY ANY TWO 8-OZ CANDLES AND CHOOSE A THIRD FOR FREE TO MAKE A LIT BOX
What makes our candles unique?
They are the ONLY color-change candles that transform from one color to another, and back again.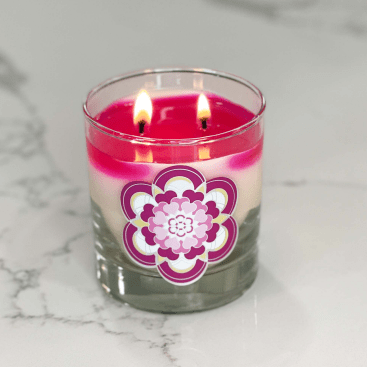 CLEAN BURNING PREMIUM WAX BLEND
LEAD-FREE NATURAL FIBER WICKS
CUSTOM-BLENDED PREMIUM FRAGRANCE OILS
HAND-CRAFTED AND HAND POURED IN USA
MAGICAL COLOR TRANSFORMATION